ADG Hall of Famer Gail Lynch has played in and contributed to the development of disc golf since its inception in Australia, and we're delighted to bring you our interview with Gail.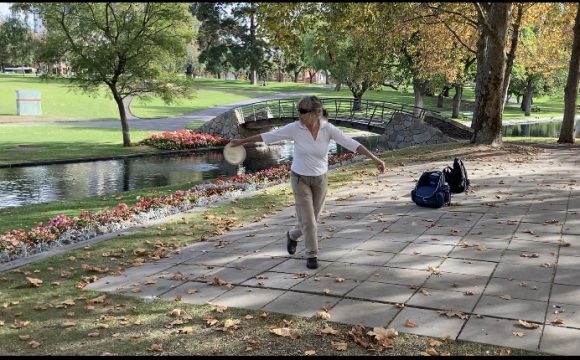 PLAYER PROFILE – GAIL P LYNCH – VIC – PDGA #68980
Playing Division: FA40 / FA70+
Predominant throw: RHBH
Q: How long have you been playing and how did you get introduced to the sport?
A: I have been playing Flying Disc Sports since 1976, when the two World Frisbee Champions came to Australia on a promotional tour for Wham-O. I was working with Toltoys, who were the Australian distributor (later a manufacturer) of Frisbees and was hooked immediately – ahhh the flight. Went on to become a founding member of Australian Frisbee Association and the Australian Flying Disc Association.
Q: What are your strengths as a player?
A: Back then – all-round high-level disc skills. Came from playing the various disciplines which required a diverse suite of skills and throws.
Now – perseverance, mindset, enjoyment. As I don't play very much at the moment and my body is aging, I have had to work hard to be mindful of this, and in particular to 'dial down' my highly competitive drive to playing to my abilities, appreciating what I can do and enjoying it.
Q: What is your best or favourite competition result to date?
A: Well, in the 'olden days', the three Australian Championships I won and particularly winning the Open Division of Freestyle – yeah! In those days we played all the disciplines of Flying Disc Sports as part of the competition; Distance, Maximum Time Aloft, Throw Run and Catch, Discathon, Freestyle, (even Accuracy at one point) and Disc Golf.
In 'modern days' competing at the Aussie Open in Perth in 2015 (the first PDGA Major in the southern hemisphere) and coming 2nd in Advanced Women and of course, who could forget my win at the SA Open / WGE 2021 in the 65+ Division (big smile and thanks to all who backed in this win – bigger smile).
Q: What are your disc golfing ambitions and plans for the next two or three years?
A: Oh, so many: playing more regularly; working with Melbourne Disc Golf Club in developing new courses, continuing our work actively developing and promoting participation options for women and juniors; continuing to have fun out there.
Q: Can you share a practice tip or something you learned that substantially improved your play?
A: Working with others who are more skilled for feedback on my form and play and putting this into practice, practice, practice.
Q: What top pro player do you look up to and why?
A: There's a huge field of fabulous players, including all the younger players coming into the sport who I admire. Though she is not touring anymore, I really admire Valarie Doss (Jenkins), 4 x Disc Golf World Champion & Disc Golf Hall of Famer. Valarie's huge list of accomplishments speaks to her skills, as well as her ongoing work in developing and encouraging young players. In particular, her ongoing work increasing participation for female disc golfers, with the creation and promotion of the first Women's Global Event in 2011 and her other endeavors, has meant that women's participation has increased immensely.
Q: What is a favourite disc in your bag right now and what do you use it for?
A: My trusty old Piwakawaka – approaching shots a dream with this, and it has gotten me out of trouble so many times – perhaps this is because Simon Feasey signed it?
A last comment – throughout my many years playing this great sport and recreation activity, I have been fortunate to travel and play overseas, meet wonderful people, to be inducted into the Australian Disc Golf Hall of Fame and to receive a Lifetime Membership to MDGC. The standout though is the people, the camaraderie, the fun and enjoyment and the sharing of the love of the game.
Thanks so much Gail, your are an inspiration to us all!