Around three years ago, Chris Harris was having a bad day, and decided to take a walk through the park opposite his house in central Adelaide, and he was alarmed to find people digging holes in what he considers to be his 'front yard'. He asked them what on earth they thought they were doing digging these holes in his front yard, and they told him they were putting in a 9 Hole Disc Golf course. Rather confusedly Chris asked what Disc Golf was, and that's where his story with the game begins. That park was King Rodney Park, and that course was the Adelaide Parklands course, home of the 2023 SA Open.
 A Financial Planner by career, Chris had to make a change for health reasons, and keeps himself busy currently by looking after a friend's massage business, working with the Rotary Club of Kent Town (where he is a founding member) and keeping fit with regular visits to the gym. CHris fell in love with Disc Golf after stumbling over it that fateful day, and put his hand up to be a part of the SA Disc Golf committee after playing for 12 months, and says he now 'enjoys the sport even more, helping the sport and the growth of the club'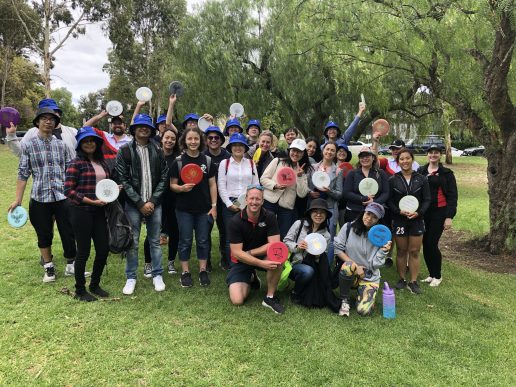 In his role on the board, Chris has taken on the Community Engagement portfolio, previously held by SA Disc Golf stalwart Gareth Morgan. This role focuses on running community events, clinics, and Come and Try days to encourage support for new courses. These events started out slowly by all accounts, however through word of mouth they have taken off! From corporate groups, schools, groups for those with mobility or mental health challenges, and communities around new courses, Chris takes charge of it all. When a club member challenged his work colleagues to experience Disc Golf, he sent them straight to Chris, and he made it happen! "Next Friday, we have 25 of his workmates coming out for some coaching and a throw and some bonding" Chris said.
For Chris, this goes a little deeper than introducing people to the game, getting new courses in, and promoting some light competitiveness between work colleagues. Chris finds the most satisfying part of his role is the amazing moments that occur with those people who didn't think they could. 'At a Come and Try event in Salisbury we had a guy in a wheelchair attend and at the end of the C&T he got out of his wheelchair, steadied himself and threw a disc. He said "that was amazing and he hadn't done anything like that in years"' he recalled when asked. Extending further, the people who believe they don't have coordination for sport slowly catch on and 'surprise themselves by throwing quite well'! On a personal note, he enjoys the faces of those suffering from some form of challenge, handicap, or physical or mental limitation when they see a disc fly out of their hands. Chris shared that being someone that suffers from anxiety that this is particularly satisfying, knowing first hand the benefits that Disc Golf can provide to those facing mental health challenges.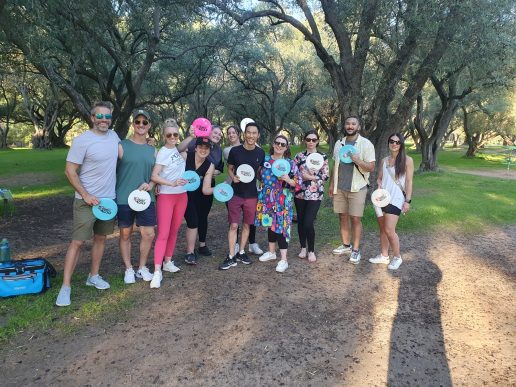 It's not all plain sailing however, and while Chris can't recall any major challenges with the events he runs, he shared that the biggest challenge is a 'bad left leg', where he suffers from a blood disorder call Klippel Trenaunay which causes him some pain, once again though, being outside and getting exercise helps him manage the symptoms.
Chris's education and training as a professional allows him to effectively listen to people, and read their body language to ensure that everyone who comes to play an SA Disc Golf event leaves with a memorable, tailored experience, regardless of ability. He believes that the work he is doing through these events benefits the SA Disc Golf club, and the greater Disc Golf community in many ways, as it 'not only promotes the sport in a positive light, but also helps anyone suffering anxiety or depression to focus on the "now" moment, be more present, and forget about what hasn't happened yet" For Chris, this provides him an outlet, and something he really enjoys doing to fill his time while being semi retired, and "quite honesty, I would love to do this type of work as a career or job"
Through Chris's work and the work of other club members, the club have been able to put in courses (including the recently opened Belair course), and are talking to a local council about another, having recently held a Come n Try day at the proposed site. Chris says SA Disc Golf will continue to push the events side of the club business, with special focus on mental illness support groups such as Beyond Blue, Headspace, and Lift the Lid through Rotary.
Chris is one of countless volunteers across our sport in this country that make it the inclusive, welcoming, competitive, safe space that it is for people from all walks of life. Chris's journey started when he took a walk because he was having a bad day, and that walk has enriched his life in ways he never could have imagined when he left the front door that day, and the Australian Disc Golf community is much richer through the involvement of Chris, and people like Chris. Thankyou Chris for sharing your story, and thank you for all the work that you do to promote and grow our sport!
For more information on events and how you can get involved, email events@sadiscgolf.com
Got a story like Chris's or know someone that does? Contact media@australiandiscgolf.com