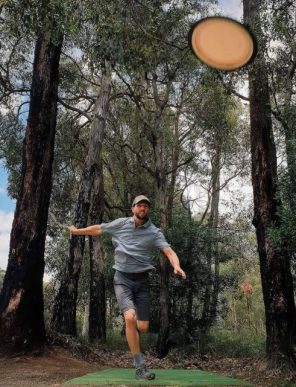 By Dave Kynaston
PDGA #24666
Playing Division: MPO
Current Rating: 947
Noisy only by name, he's cool, calm and collected when out on the course. Following an impressive MPO win at WA's inaugural 'The Mundilorian', Paul's diverse and artful shot-making saw him fight back in round two to take second place at the 2021 Perth Open.
Let's hear from Mr Paul Noesen.
Q: What are your strengths as a player?
A: I feel my strengths are that I have many tools to work with; forehand, backhand, tomahawk, thumber, rollers…..there aren't many shots I can't utilise.
Q: What is your best or favourite competition result to date?
A: Gentlemen's Club Challenge in 2010 playing MA1, I took second place on very little sleep and the top 3 received automatic invites to the National Amateur Disc Golf Championship which was amazing to experience.
Q: What are your disc golfing ambitions and plans for the next two or three years?
A: I want to continue to develop a very consistent and dangerous putt, bring my rating up and attend Masters Worlds in the United States.
Q: Can you share a top form tip or something that substantially helped you improve your play.
A: The biggest thing that has helped me is to worry about what I'm doing and not how others are shooting. Don't get angry at a mistake, think about what you can focus on or change to help correct it for future throws/events.
Q: What top pro player do you look up to and why?
A ; Calvin Heimberg – He is as cool as it comes, very focused and enjoys playing the game.
Q: What is your favourite disc in your bag right now and what do you use it for?
A: Favourite disc at the moment is the Axiom Tantrum; this disc is a go to for distance backhand and forehand. It's also very comfortable and easy for me to control.
Thanks Noisy!