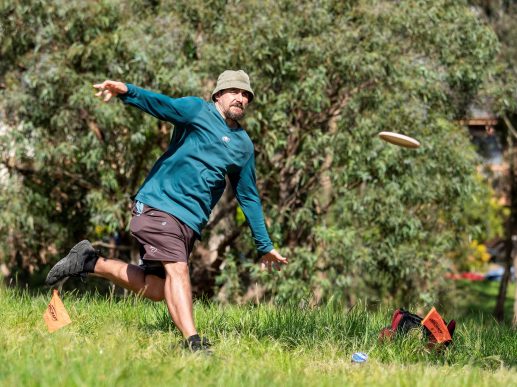 Rueben Berg is a prominent figure in Australian Ultimate but relatively new to disc golf. Like many who play or have played Ultimate Rueben came to the sport ready armed with a solid throwing foundation. This provided an accelerated learning curve and in his first PDGA sanctioned competition in late 2021 Rueben took the MA40 win, followed shortly after by a 2nd and an enviable rating at 917.
A proud Gunditjmara man, Rueben founded the Indigenous Ultimate Association, the primary aim of which is to encourage more Aboriginal and Torres Strait Islander people to play Ultimate. Rueben is a regular public speaker and works through and for several organisations to utilise his expertise and knowledge to improve the lives of Aboriginal and Torres Strait Islander people, and to raise awareness of Aboriginal and Torres Strait Islander culture for non-indigenous Australians.
Let's hear about Rueben's early experiences in disc golf. 
Playing Division: MA40
Current Rating: 917
Predominant throw: Right Hand Back Hand
Q: What are your strengths as a player?
A: My backhand drives are definitely one of my strengths – it's always a great feeling to step up to the tee and launch a backhand as hard as you can and watch it sail to just the right spot.
Q: What skills from Ultimate do you employ in disc golf, and have you learned anything new from disc golf that has helped in Ultimate?
A: Understanding the different shapes you can get through the air by throwing a disc has been a useful skill I have bought across from Ultimate – as well as my love of knowing, understanding and implementing the rules properly! A lesson I learned going back to Ultimate after playing disc golf is that it's much easier to hit a target when the target can move to catch the disc.
Q: What are you plans or ambitions for disc golf in the coming year?
A: To play as much as I can at different courses and with different people so I can learn more about this great sport. I would love to be able to perform well within the MA40 division.
Q: What is your favourite disc in your bag right now and what do you use it for?
A: I got given it as a bit of a joke, given my surname, but I do love the Kastaplast Berg. I use it for approach shots and Circle 2 putt attempts that I can make a decent run at, but know that the disc won't go much past the basket if (when) I miss.
Q: Is there a particular pro player that you admire and why?
A: Philo Braithwaite was one of the first pro players I was drawn to – his albatross at Milo McIver is amazing. Great commentator too. As a Gunditjmara man, it is always powerful being able to see other minority players succeeding.
Q: From your work in building the Indigenous Ultimate Association, can you share some thoughts on how more Indigenous people can be encouraged to participate in disc golf.
A: I think that being able to see diversity of all kinds within the sport is a great thing that helps show this is a welcoming and inclusive sport. So for example I would love to see more female players, and more players from different cultural groups. I also encourage any other Indigenous disc golfers out there to reach out to me to have a chat – it's always great connecting with others to help us share, learn and support one another.
Many thanks Rueben
Find out more about Rueben and his work
http://www.ruebenberg.com.au/
http://www.indigenousultimate.org.au/