Written and compiled by Darren Stace-Smith – Victoria
In the lead up to the 10th annual Vic Open in a few days, we had a short Q & A with some of the women who are pushing Disc Golf in Victoria at the moment. All are active participants in the competitive scene here in Victoria (in both Geelong and Melbourne). Hear their insights on the game, what drives them, and their goals for 2017. If you see them out at the Vic Open, don't forget to say g'day!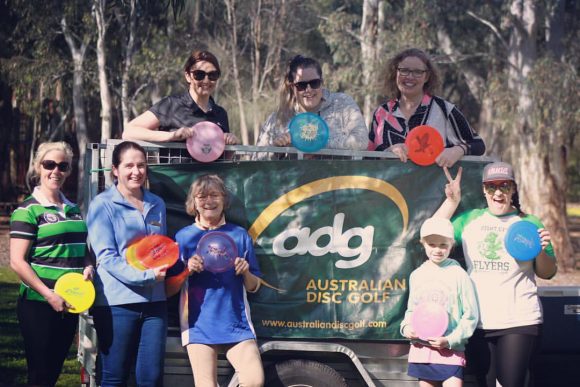 Participants:
YASMIN MURRAY (Melbourne)
CASSIE SWEETTEN (Geelong)
EMMA WINKWORTH (Geelong)
TOOSJE FREQUIN (Geelong)
-How long have you played Disc Golf?
YM: I've been playing competitively since September 2016.
CS: I've been playing disc golf for 12 years now.
EW: Started in January 2015 so slightly over 2 years.
TF: I've been playing Disc Golf for just on 2 years. I took a big step in playing my first ever league day in June 2015.
-What got you into Disc Golf?
EW: We discovered the local course in Geelong when we were walking around the river one day, ordered some discs and the rest is history.
TF: In the lead up to the 2015 Australian Open my partner would be out training on a daily basis. He would always encourage the kids and I to come along and we did. At first I just walked with him, then l started to ask questions of why he would throw a certain way. My interest grew and once l started to throw a disc l was hooked!
-What do you love about the sport of Disc Golf?
YM: I love the community feel to the sport, and meeting so many amazing new people. We have met so many new friends! The game itself is great, even though your competing against people it never really feels like that, everyone is so supportive at any level.
CS: The people make it a great sport to be apart of. It's like a great big family. 12 years in the sport and friendships that I have created are amazing.
-Who inspires you in the game of Disc Golf?
YM: So many people! My partner's dedication to Disc Golf is very inspiring, I love that he loves the sport so much – and I like to support him. The other Victorian girls I play with, I'm amazed at how well they all play and that helps me to stay focused and want to improve my game.
EW: I really love seeing other players improve their game and throw amazing shots. There is no specific person who inspires me more than the others. I think you can learn a lot from playing with a mix of people with different throwing styles and skill levels.
-Do you have a favorite Disc Golf course in Australia?
CS: I love Drysdale but that's just being bias… If I had to choose a course outside Geelong/Victoria it would be Mundaring Disc Golf Course. I love long courses, it gives me a chance to unleash and I love watching the flight of a disc, and being able to control what the disc does.
TF: Last year away on a family camping trip, my partner spent a week designing and preparing a Disc Golf Course just for me. This would have to be my favorite.
-Favorite Disc Golf course on Earth?
YM: Koh Samui Disc golf course, because it was a smaller style course and I beat everyone that day!
CS: I've travelled to Japan twice now and playing the course in Nasu Highlands is absolutely amazing!
-What is your biggest strength in the game of Disc Golf?
CS: The distance I get on my backhand drive. Through my weight training and core work I have done over the years, I'm now throwing the furthest I have ever thrown. I surprise myself how far I've been driving lately.
EW: I always reassess how I'm playing and look to make changes where they are needed even if it means taking a step or two back to be able to push further forward. My game has improved dramatically since I started and is still a work in progress.
-What is your biggest weakness in the game of Disc Golf?
YM: My drive, definitely need to work on my form and technique. Also my side arm!
TF: I can't say "no" to a round!
-What disc(s) can't you live without in your bag?
YM: The raspberry Valkyrie I've had in my bag from day one, it's my hero disc. Ever reliable! My MVP Atom putter, and my Wizard for long range putts/approach.
CS: That would have to be my Roadrunner; at this point in time I have 7 in my bag! Crazy I know, but 9/10 it's my go-to disc.
EW: My Latitude 64 Saint is my go to disc for long straight or open shots. This disc was the first one I started getting good results from. I started out with a very light weight second hand disc but have built it up to 170+ with more distance and control than before. I think this disc will be in my bag for a long time.
TF: I first started throwing Valkyries and I am not ready to give them up. Also l love my Pure Discs.
-Who is your favorite pro in Disc Golf?
YM: The champion, Paul McBeth (USA)… but Paige Pearce (USA) is a close second.
CS: Val Jenkins (USA), she is an absolute role model for women in disc golf. Ever since I first picked up a disc, Val and I are developed a really good long distance friendship. She's a beautiful person on and off the disc golf course. One of a kind that girl is.
-How can the game of Disc Golf grow and improve in Australia?
CS: We need more women in disc golf. I'm a part of the ADG board as the Vice-President and I'm working on a small project to launch next year with the Women's Global Event. Hopefully there will be some exciting news to come throughout the year.
EW: I think one of the biggest drawbacks for disc golf in Australia is that so many people just don't know what it is. I didn't know what it was, or that we had a local course until 2 years ago. We need to increase awareness of the sport – that will increase participation and then the clubs and competitions will grow in turn.
-What is your goal for 2017 in the ADG tour?
JM: I would love to play well in tournaments, hopefully get some great scores. I am currently third in my division nationally and I'd love to stay up there for 2017!
CS: So much to look forward to this year, the 10th Annual Vic Open is home in our city, and I can't wait to see all the effort the crew have put into this event. I've played Aussie Open, ACT Open and one event I can't wait to go back and play this year is the Gold Coast Classic. Last year I played my best A-Tier event at that course, I was sitting really well amongst the Advanced Men's division. So that's a goal I've set for myself this year, to give these guys a run for their money!
EW: This year I stepped up to Intermediate from Novice, and my goal is to improve enough to step up to Advanced for the next year. I definitely have a long way to go to be able to compete at that level but that's what I am aiming for.
TF: In the two years that I've been playing Disc Golf l have improved immensely. I'm still striving to enhance my game and will continue to practice, practice, practice. This year I have set myself the goal to focus on giving back to the sport. I hope I can share my love and enthusiasm for Disc Golf with others.