Emilie Cameron – ADG Secretary
Emilie Cameron is the (Company) Secretary for ADG and co-ordinates……well pretty much everything. She's the central hub of communications and actions internally and externally. Emilie is a leading advocate for the growth of female participation in the sport and like other board members she also volunteers for additional projects, like co-ordinating the first Aussie Disc Golf Day (that was a big one), and the Women's Global Event on the national level as well as TDing the WGE at Koala Park in NSW. Let's hear from Emilie.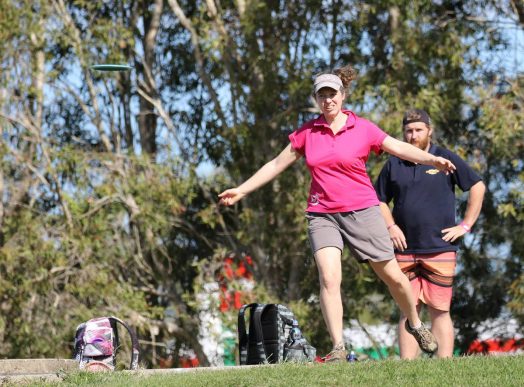 Q. How long have you played (DG) and how did you get introduced to the sport?
A. I have played Ultimate since 2002 but didn't venture into disc golf until 2008 when I moved to the US with partner JJ. There was a course 5 mins from our house and the first time we played we met some awesome people who told us about the local club and events. We were soon playing as much as we could and made some great friends.
Q. What is your favourite place to play in Australia and why?
A. While I like playing those big-name courses like Poimena and Crater Lakes I think my favourite place to play is to stay local. There is something special about being involved in getting a course in the ground and getting to play that courses regularly and seeing others enjoying it.
Q. How did you come to be on the ADG Board? and what are the responsibilities of your position?
A. In 2010 the AGM was held in Finny's (Chris Finn) backyard in Perth and there was a real sense of excitement as the sport was starting to take off. When it was time to vote for a new committee no one was putting their hand up for the secretary role. So I thought why not. I have been in the role ever since.
Q. Look ahead five years – what is your vision for disc golf in Australia?
A. More women! The sport has grown so quickly in recent years that we need to make sure the numbers of women and other underrepresented groups are included in that growth. I would also love to get disc golf into more schools and have enough juniors for some junior-specific tournaments.
Q. Do you have any tips or advice for people thinking of getting involved in the admin/management side of disc golf? A. This sport runs on the hard work of volunteers running clubs, events, on boards. If you are at all interested there is a job for you. Just reach out and see what help is needed.
Thanks Emilie, you are truly appreciated!