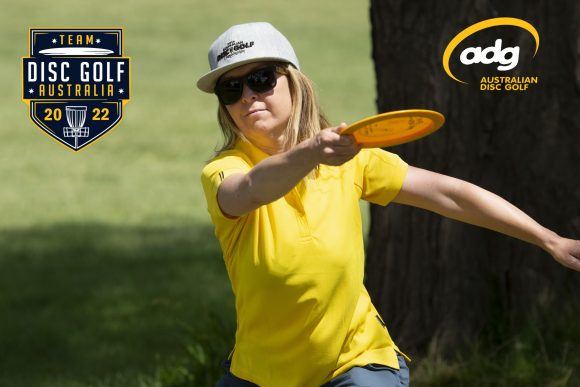 Playing Division: FP40 / FPO
Predominant Throw: Right Hand Back Hand
Q: How long have you been playing and how did you get introduced to the sport?
A: I've been playing for 7 years and got introduced to disc golf by my husband Ken, who also introduce me to ultimate a few years prior.
Q: What are your strengths as a player?
A: I learn and adapt to new skills and techniques quickly and am prepared to work hard to improve my game. My game improvement has been erratic due to a busy work-study-volunteering-life schedule over recent years, but it's meant I've learned to work with the time I have, and find ways to maximise the training I do.
Q: What is your best or favourite competition result to date?
A: I threw a 891-rated round at the Fantasy Park Open in February – my highest rated round yet – which was an encouraging result, and reflected the work I've put into my game.
Q: What are your disc golfing ambitions and plans for the next two or three years?
A: I'd like to improve my rating to 850 within the next year and set my sights on 900 in two or three. Being competitive in an international women's masters competition would be cool – I would be rapt to find myself on a card with Des Reading or Juliana Korver one day. I'd also like to keep contributing to the growth of women's disc golf, and improve the sport's inclusivity for more people in the community.

Q: Can you share a practice tip or something you learned that substantially helped you improve your play.
A: Listen and learn from others, but also remember no-one know you like you. Take advice from a range of coaches and guides and use what works for you.
 Q: What top pro player do you look up to and why? 
A: Kristin Tattar. I first noticed her career while preparing for the World Team Disc Golf Championships in Estonia in 2019. I admire her for just being amazing by what she does and the way she plays her game: she's a humble, quiet achiever.
 
Q: What is your favourite disc in your bag right now and what do you use it for?
A: I just started throwing my newly acquired Latitude 64 Royal Grand Grace with the Kristin Tattar stamp. I'm using it to get distance and a fairly reliable fade, which may change a little as I beat it in. However I love its glide and am keen to get some more Graces for my bag. Prior to recent throwing sessions I would have chosen my RPM Cosmic Pekapeka for similar reasons. Some love for our local manufacturer too: the Fourth Circle Discs mid-range Dingo is my go-to tailwind upshot disc.
Thanks Sue, we're stoked to have you on Team Australia!