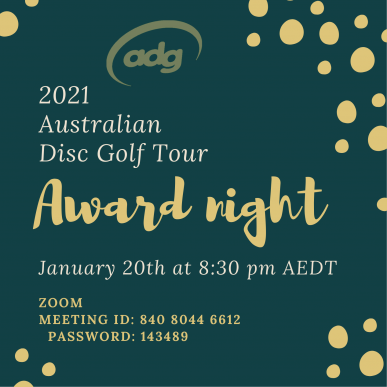 It's time for Australian Disc Golf's night of nights. A glittering, gala occasion where we all swap the disc golf polo for our finest evening wear (from the waist up at least), pop the champagne, get the limo to do a lap around the block, and then strut the red carpet across our lounge rooms to log in here.

https://uonewcastle.zoom.us/j/84080446612…

Join us this January 20th at 8:30pm (AEDT) as we celebrate our first Australian Disc Golf Tour winners since the last decade and launch the 2022 tour. It's a chance to honor those that have maintained a consistently high standard all year while dodging covid to travel far and wide to support our game.

See you on January the 20th.