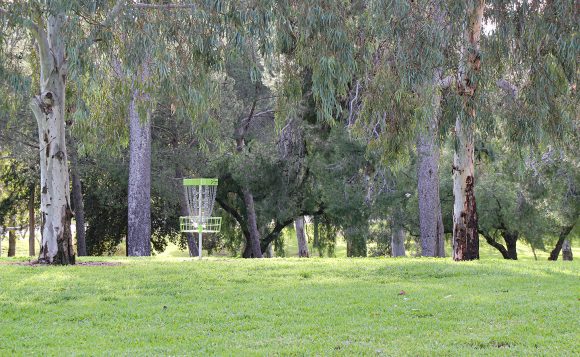 The biggest story in Aussie Disc Golf this year
In 2020, this is really saying something, but the biggest story in Australian Disc Golf this year is one we haven't told yet. The creation of the Adelaide Park Lands Disc Golf Course is a major step forwards for Disc Golf in South Australia and the game in Australia as a whole. Yet this story has remained in the shade until now because of the relentless news cycle this year that kept bumping it off the ADG media's equivalent of the front page. Apparently there has been a virus.
Why the Adelaide Park Lands Disc Golf Course is such an important development
It comes down to how people actually take up a sport like disc golf. Because we love the sport we can succumb to the illusion that others will automatically love it too. All we need to do is promote it right? Unfortunately, if that were true then all we'd need is a bunch of – 'Disc Golf! It's Awesome! – bumper stickers and the sport would grow on its own. No, Disc Golf isn't for everyone, but at the rate the sport is growing it's clearly for someone: that person out there who is looking for just that right mix of outdoor activity, athletic test, mental challenge, social connection and aesthetic pleasure that our game provides. The trick is – giving them the chance to see it.
Back in the days before most Aussie Disc Golfers had access to a course in their community it was remarkable how many of our players had been given their first exposure to the sport in Queenstown, New Zealand. Indeed, one of our game's super-spreaders here, Andrew Ferguson, first saw Disc Golf on a snowboarding trip to Queenstown. The course there is on the shore of Lake Wakatipu and a few hundred metres from downtown. In Adelaide, it's barely a 20-minute walk from the Rundle Mall to Ityamai-Itpina (King Rodney) Park, otherwise known as Park 15. Lots of people are going to see it; including that person who disc golf is just right for. Having a Disc Golf Course that is so accessible to a broad range of people will also show how this gentle, fun and social activity can be of measurable benefit to a community.
It's all in a name. Ityamai-Itpina

William Light, the Malaysian born ex-British navy Commander, who had been appointed Surveyor-General of the new province of South Australia, was about 150 years too early to be a disc golfer. But the well-travelled seafarer, warrior and artist had seen enough of the crowded, filthy cities of post Napoleonic Europe to know the value of public open space and recreation. One of the three Kuarna elders he negotiated with for the use of the land around what they called 'Tartanya' (red kangaroo place), was Ityamai-Itpina. If you are wondering how to pronounce it, have a listen. There are very few cultures in the world who don't use patronymic naming (eg Ferguson – son of Fergus etc) and the Kuarna are one of them – they name themselves after their children when they are born; which, when you think of that for a moment, is a beautiful idea. So Ityama-itpina means 'Ityama's Dad.' To the colonists he was known as King Rodney.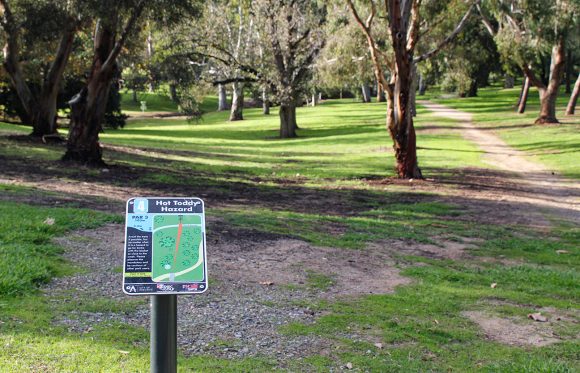 A Disc Golf Course in the Community
Any disc golfer visiting Adelaide would immediately note the lush parklands that surround the city and have their thoughts drift in the only logical direction, which is, 'this place would make a great course'. Some may be surprised to know that the course in Ityamai-Itpina Park wasn't the first. Neil Williams, who ran the SA Recreation Association at the time, had arranged with the City of Adelaide to install a 9-hole course with permanent poles and concrete tee pads in Bonython Park in early 1980's. After being popular in its early years the course fell into disuse and was removed by a new council regime that was concerned with public liability. Neil and Mark Powers also made other temporary courses around Adelaide at the time in places like Noaralunga.
"It took us 6 years but we finally did it." Said Adelaide Disc Golf Club founding member Andrew Simpson. "Right from when (now ADG President) Luke Turnbull created the club, I remember that the goal was always to create a free to play course in the Adelaide vicinity. Todd Brooks, was a massive support and served as president while we built our relationship with council. Gareth Morgan and Jonathan Dragt were also key in helping apply for grants and continue the momentum from the foundations that Todd and I had laid."
The relationship with Julia Wallace at the City of Adelaide was key. She had the foresight to understand the benefits that Disc Golf could provide in activating public spaces. As many councils in Australia are now discovering, disc golf puts positive, active people in parks, providing passive surveillance and social benefit as they do. A spot was found on West Terrace but this area proved to be unsuitable due to the existence of rare grasses in the area and the fact the it wasn't zoned for recreation.
Then, in 2018, Ityamai-Itpina Park was put forward by the council as a suggested site. The SA Open was held in the park that year, using temporary baskets on holes that have now become part of the permanent course. A come and try day was also held with the support of the council and based on the success of this, a grant was provided for eight more similar days and the purchase of 100 discs.

The initial proposal for the course was for the Adelaide Disc Golf Club to own the baskets but this created complications for the insurers. Eventually a solution was reached where the council funded half the baskets and the club donated the other half. Another issue was the directive that no permanent infrastructure is to be built in the Adelaide Parklands. To comply with this the baskets were installed in sleeves so that they can be removed for major events. The fixed baskets were installed in May this year under a 5-year trial agreement. The result is a par 28 9-hole challenge with a surprising amount of elevation change that cleverly uses the creek lines and a 100 year old olive grove to create some tight fairways.
Since the installation (with the help of SA company Ausdiscs), the Adelaide Park Lands Course has proven to be extremely popular. Currently the second most played course in Australia according to the international website, Disc Golf Metrix, the course has been played close to 2000 times both casually and in competition. The small band of existing Adelaide players have been joined by many newcomers and a bunch of travelers and expats who picked up the game overseas and have been delighted to find a local course. The Adelaide Disc Golf Club which is based at the course has also gone from strength to strength and has had more than 40 players at its last two league days.

"It's a great casual and competitive sport, great source of exercise and a new way to experience the beauty of the Adelaide Parklands. I can easily take my young son out with me and my friends for a round, and finish at the playground next door." Says local business owner Thomas Rodan. "Disc Golf  caters to players of all skills and is very inexpensive to play. I like disc golf in the parklands because of its accessibility and ease of use. The community is welcoming and the sport's impact on the environment is low, which is great when considering its implementation in urban green areas."
Another local who lives opposite the course, Chris Harris, said "I was out walking the parkland, when the SA Disc Golf Club was inserting the tees and baskets for the 9-hole golf course. I asked what they were up to and one if the club members explained about disc golf. I have been hooked ever since and it couldn't have come at a better time because I suffer with stress and anxiety, the sport really helps calm me. I congratulate the council for allowing the club to put the course in."
"As a stay at home dad looking for an excuse to take my young daughter out and about the Adelaide parklands disc golf course has been amazing!" Says Ben Foley. "It's so easy to access by bus or car and is such a nice way for my daughter and I to spend a morning or afternoon walking around the parklands before stopping for a play and snack in the neighbouring playground. It's also been so helpful to stay connected to all my friends in a way my daughter can participate in. "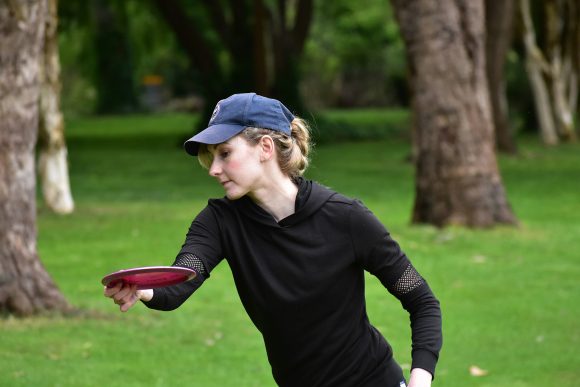 Anna Kolodina has been playing for a year and a half. "What I love most about this course is the fact that the holes can be technically challenging, especially the ones with lots of olive trees, so it feels more satisfying when you get it right. I like disc golf because it is a mental challenge. It takes a lot of practice to get the hang of it but that makes it more worthwhile when you see progress. It's also great to be out in nature, and good to hang out and meet a bunch of nice people. It's a great social sport but you're not relying on anyone but yourself. I encourage everyone to give it a go."
Sincere congratulations from everybody in Australian Disc Golf to the City of Adelaide, The Adelaide Disc Golf Club and its committee members past and present for the creation of this outstanding facility that will serve the community of Adelaide and the sport of Disc Golf in Australia in the coming years.