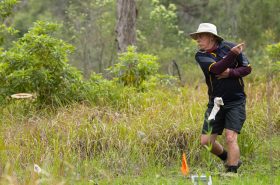 York Pennsylvaina. Saturday July 27. 3pm
Australian Disc Golf is, to a person, very proud to announce our first world champion today. Bruce McNaughton, playing in the MA65 division, won going away in the final nine of the world championships tournament, to triumph by 11 throws over Garry Hanley from Oregon, USA and 13 ahead of Buz Ryalls-Clephane from Florida, USA.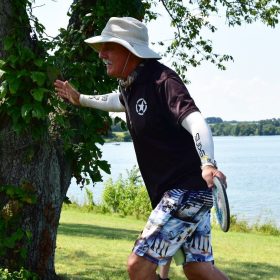 The amateur world championships is a grueling, week-long test of stamina, nerve and skill: with 6 preliminary rounds over 4 days, followed by an 18 hole semi final and a nine hole final for the top four. Bruce built a solid lead in the mid-week rounds and was never really headed, although a slight miss-step in the Saturday morning semi-final left him with only a 6-throw buffer over a fast-charging Ryallis-Clephane going into the final nine.
But our newly crowned champion was nerveless in the final nine holes, streaking away with birdie after birdie, dominating the final round and increasing his lead to 11 at the end.
Bruce knew he was in a good position mid-week as he'd built the early lead on the the shorter, more technical courses that suited the playing-style of his rivals. With longer courses to come later in the week, tracks suited his booming forehand drives , he knew he just had to stay consistent to be in with a chance. 'I missed heaps of birdie and par putts though' he said. Something that obviously didn't trouble him in that brilliant final nine performance.
Well done Bruce. The rest of Aussie disc golf is celebrating with you this week.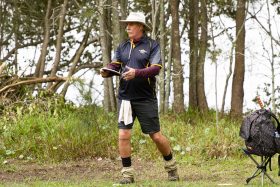 Story by Kingsley Flett