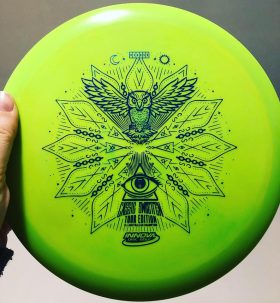 We aren't too sure how Cassie Sweetten feels about us giving her the title 'Queen of Aussie Disc Golf' but we'll run with it until advised otherwise. The six-times Aussie champ is heading overseas soon to compete in the United States Women's Disc Golf Championships in Spotsylvania, Virginia, USA this September 19-22.
Innova have provided her with a tour disc and we hear there are a few left. She can be contacted via
facebook
if you are interested in purchasing one.The design was mostly inspired by Cassie's love of Mandala designs, the fact she thinks owls are cool and that she'd be out there practicing day and night if she could. It took her husband and talented graphic designer 
Jarrath Sweetten
, 6-weeks to complete the design.
All the best Cass, Aussie Disc Golf will be following yours and travel buddy 
Toosje Frequin
's progress with interest.