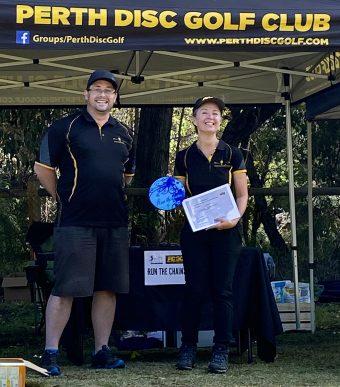 Congratulations to Sue Summers for passing her assessment and becoming our latest ADG accredited Tournament Director. Mentoring her through the process of running the 'Run The Chains' event – The first women's-only event to be run in Australia and the largest turnout of women in the PDGA Women's Global Event this weekend in Australia – was Kris Kohout.
If Hootie isn't the most experienced tournament director in Australia then he's certainly in the conversation. He is most definitely the most experienced TD mentor though, with two students now successfully running events under his guidance.
'I saw how easy all you guys made it look so I thought it'd be a breeze – but bloody hell!' An un-named source quoted Sue as saying this week. By all accounts she ran the event like a charm though and has paved the way for more women's only events to come.

You can find out more about the Tournament Director Mentoring Program here.