Luke Bayne has rocketed up through the divisions in Queensland this past year to the point that, after barely more than a year playing, he'll be a factor at the Queensland Championships this weekend. Along with Abra Garfield, he's one of the crew of Ultimate players who've made the switch to Disc Golf in recent times.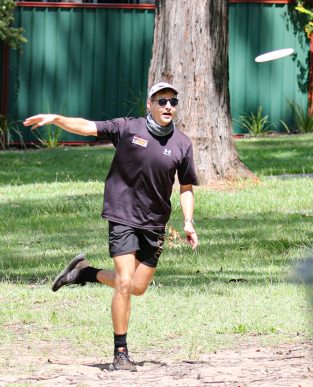 Did you have much of a sporting history before Ultimate? Any sports you played growing up?
Growing up I was pretty sporty I would say. I mostly played basketball for about 10 years from early primary to late high school. It was fun and I was really competitive, playing at one state championships. I was always throwing something around though. I played a lot of catch with a good friend so I guess I was decently coordinated. Then when I got to Uni I played a little bit of touch football and got into Ultimate straight away.
How did you get into Ultimate?
At UQ a some friends that I was living with and I went to the O (orientation) day where there was a bunch of sporting clubs. Ultimate caught our eye straight away and fortunately for us we were living right across from where they were holding their regular league days; this wasn't just super convenient to go play, but any time that we didn't have uni, we would just go throw. With that gang of ultimate minded frisbee friends we must have racked up like, 2-hours a day of throwing for that first couple of years.
Were you aware of disc golf for long before you first started playing it?
Over that time we became aware of the other frisbee disciplines. We played guts sometimes and we'd do MTA's a lot. We used to play our version of object golf too, with a bunch of other Ultimate friends. We had a few different courses: one for day and one for night and the layouts would vary depending on traffic. That was a lot of fun, we'd try rollers and shots that we'd usually not go for. Formal disc golf used to pop up in the conversation from time to time, maybe through a youtube highlight or something like that. When I was in the US on a summer exchange program I got a golf disc – a champion blue Monarch (I think). We went down to Walmart, into the sports section and grabbed the fastest driver they had. We had fun with that disc, just throwing it during our breaks all summer.
Any particular reason for taking up disc golf lately? Was it because of covid-19?

Yes, it was a Covid thing partly. Around 2019 I had moved away from Brisbane for work and had stopped playing ultimate aside from the occasional tournament. We had played the Annerley course (Yeronga) a few times, with lids, before it was removed and that was fun. Then I think an invite went out from Bruce McNaughton for the Marchbank-McNaughton cup in 2019 and I thought 'this'd be a good time to have a go.' I remember playing with Stephen Kearney and Kerrod Steel with some borrowed discs. Then on the second card I had a round with Bruce McNaughton, got lots of tips and heard lots of stories which was nice. That tournament really piqued my interest. I got very keen to keep playing and improve.
But before Disc Golf, even when I was playing heaps of Ultimate I still wanted to go out afterwards and keep throwing. We got inspired by the Brodie Smith trick shot videos and tried to go out and make our own. A friend and I had a channel called The Ulti Mates, our first video hit 50,000 views. Because of that interest I kept trying to do trick shots when I could. Trick shotting is essentially disc golf but with lids. Inventing different shots, the repetitive aspect, dialling it, figuring out the wind and the conditions, working out the best line of attack etc.
By 2020 I'd got quite curious and purchased my first discs (an Innova beginners pack). I also noticed that Abra Garfield had really got into disc golf and he'd recommended a few for me to buy. I was still out in Gympie way so I hadn't been around any leagues or anything. But I came down for the Queensland champs, where I won by a shot or two and got my Ricky Wysoki bag which I'm still using. That was really good motivation and inspiration to keep going.
Was it a slow adaptation to throwing golf discs? Or did you get used to fast discs fairly easily?
One of my early discs was a 150g DX Ape. With some of those early discs it was terrible. I didn't really understand what was happening. At the Queensland championships I borrowed (and then bought off him) a TL3 from Abra. That was a perfect straight flying disc for whatever distance I wanted. Then I got a Shryke, a Corvette, a couple of Buzzzes, a Zombie and a few others like that.

But the adaptation to faster discs was definitely funky. As an Ultimate player you are used to throwing this hyzer, inside-out throw and letting the disc naturally flip up. Early on my shots were released early and faded short. It was a good 3-4 months of practice at home before I started seeing results. The Shryke was less of an adaptation because I could release that on hyzer and let it flip up for huge distance, but then I moved on to the stuff I'm throwing now, like the Firestorm. I'm more dialled in now after I spent a good chunk of time down at the park doing field work. Now I've come to favouring really over-stable discs; because once you work out how the disc wants to be thrown, you know it's always going to fade back.
Where does Disc Golf fit into the long-term picture for you? Can you see yourself ever identifying as primarily a disc golfer? Or will it be secondary to Ultimate?
I think I reached that point somewhere before or soon after that first Queensland Championships. I mean I learned to weld just so I could build my own putting basket. But it was during practice that I realised I was committed, because it meant that I could play on my own and didn't need a partner to throw with. It's been almost 12 months since I've been fairly sure that disc golf is going to be a big part of my life. The objective so far this year has been to get down to Brisbane and compete as much as I can. Disc Golf really works well with me. I'm rapt with it. It's a fun activity to be playing with other people; but I don't feel like I am playing against anyone, I'm just competing with myself. If someone else is putting really well or whatever I'm usually stoked for them, it lifts me up.
The issue with most disc golfers is that they linger for as long as possible in the lower divisions to increase their chances of winning a trophy. You seem to be doing the opposite. You've moved up through the divisions very fast. Since September last year you have played Novice, Intermediate, Advanced and then Open, with two wins, a second and a fourth. Has there been any particular reason why you have chosen to play higher divisions as soon as possible like this?
I don't care about winning prizes or beating other people. I care about playing to the level I think I can play and playing with people that I think are at a similar level. I'm glad I played novice early on but I'm glad I moved up early on. I was influenced by Abra because I played Ultimate with him for twelve years. He's been a pretty good metric to measure against. I'd say he was a slightly better ultimate thrower than me – I reckon he was in the top- 5 throwers in Ultimate in Australia when he was playing. Him moving up early on was good motivation because I knew I could play at a similar level to him just from playing lots of object golf on the Gold Coast or at Uni or wherever.
It sounds like a bit of ego but I was just being a realist. After so many years of throwing discs and being accurate, I knew early on I could play just as well as the open guys. It was just about gaining as much experience, particularly in playing with people who are emotional during rounds and playing with some nerves. All the time playing ultimate I don't ever remember being that nervous, but I was a bit during the Queensland Champs. But honestly, overall, I just look at it as a fun day out where I'm doing exactly what I want to be doing. If I'm not going to enjoy it and then what's the point? I'm motivated by fun and if doing well is a by product of that, then so be it.
I'm glad I moved up. I was hoping to move up even earlier. I feel comfortable playing open. I really look forward to playing with guys like Rhys, Michael Durand, Abra and Aaron Morton. I want everyone to be playing well and to be pushed by them.
What is the biggest difference in your game now, compared to when you started. It's clear that you are better – but in what ways?
Putting is the biggest change. I still don't think I'm as dialled in as I will be. But in terms of consistently hitting from inside circle one I'm getting quite confident. My home-made basket has been a big help. Ideally, I'll sink 100-200 putts in about 4 sessions a week. I got some advice from people, but I've also watched a lot of video. I'm a big fan of Calvin Heimburgs putt; not that I emulate it completely but just seeing the way his form his: how straight and consistent and how little effort has helped a lot. I saw him putting with the pointer finger on the outside of the rim to stabilise the disc, so I started doing that. It caused a lot of rubbing on my index finger and it took a few band aids and some time to build up a callous there. It's kind of a spin putt but I'm really just working on a putt that s straight for as long as possible.

I've also taken some good advice from Eagle, from a video of his about 12 months ago where he was talking about putting from 5m a lot. Getting used to the muscle memory of doing it right. Also using the disc doctor app to have a metric to play against has been really handy to get the reps in and to understand how much effort needs to go into it. But overall I've learned to be confident, sure and assertive with my putting.
From ultimate there is a lot of mid-game and short game action already so I feel like I've already got a good handle on disc angles etc, so I didn't really prioritize that. I worked on distance to make sure I had good from throwing 100%. I had some good advice from Abra about only throwing 80% early on, just be smooth and slide it across the table. So I did that early on, but have now started to increase the effort.
I realised recently that, 'ok I need a forehand now'. I had one from Ultimate but I never converted it. I spent two sessions throwing all the discs in my bag to get that dialled in. I've had some good advice from Rhys and Bruce McNaughton to keep my elbow close to my hip so I'm driving the disc with more momentum from my body. Before three weeks ago I'd only throw a forehand if it was a delicate touch shot close to my body. But that's changing.
I'm also now playing the smart shot. Playing golf instead of going for distance all the time.
What other players have you learned the most from? (either via youtube or in person)
Abra, Rhys Kruger, Tim Marchbank. I watch a bit of Simon Lizotte and some of the Brodie Smith videos early on because that was good inspiration to get me moving on the conversion. That's it really. Everyone has got to find their own game and find out what works for you. I want to go pro one day. That's what I'm looking for. I want to get there.