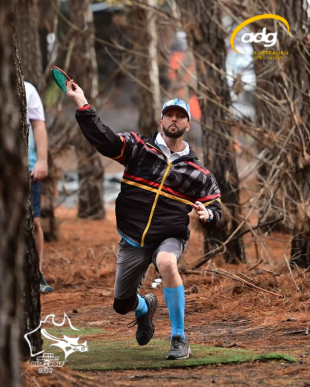 The World Team Disc Golf Championships are on 17 to 20 August. Last year Team Australia member Paul Noesen was kind enough to share with us some insights into his game and his outlook on the sport.
PAUL 'NOISY' NOESEN – WA – PDGA #24666
Q:What are your strengths as a player?
A: I feel my strengths are that I have many tools to work with; forehand, backhand, tomahawk, thumber, rollers…..there aren't many shots I can't utilise.
Q: What is your best or favourite competition result to date?
A: Gentlemen's Club Challenge in 2010 playing MA1, I took second place on very little sleep and the top 3 received automatic invites to the National Amateur Disc Golf Championship which was amazing to experience.
Q: What are your disc golfing ambitions and plans for the next two or three years?
A: I want to continue to develop a very consistent and dangerous putt, bring my rating up and attend Masters Worlds in the United States.
Q: Can you share a top form tip or something that substantially helped you improve your play.
A: The biggest thing that has helped me is to worry about what I'm doing and not how others are shooting. Don't get angry at a mistake, think about what you can focus on or change to help correct it for future throws/events.
Q: What top pro player do you look up to and why?
A: Calvin Heimberg – He is as cool as it comes, very focused and enjoys playing the game.
Best of luck for Croatia Noisy, so great to have you representing Australia on the world stage.