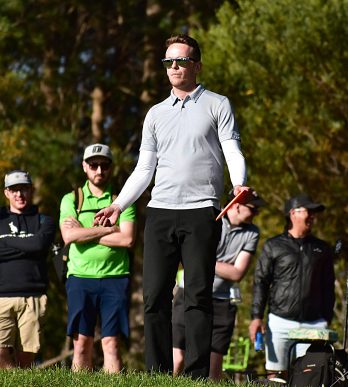 By David Kynaston
Next up in our series of player profiles is the talented MPO player from Victoria who throws from both hands and has a (right hand) sidearm game that most in Australia can only dream of.  Bringing you Mr Ryan Budge.
Playing Division: MPO
Current Rating: 976
Sponsor: Innova Discs
Predominant throw: Right Hand Forehand
Q: What are your strengths as a player?
A: My biggest strengths would be my forehand power and control. It's great to have distance, but being able to shape almost any forehand line would be my greatest strength.
Q: What is your best or favourite competition result to date?
A: I would say my 3rd place finish at the 2019 ADGC. It was such an enjoyable trip and to play at one of Australia's best courses in Mt. Gambier was definitely a highlight.
Q: What are your disc golfing ambitions and plans for the next two or three years?
A: I want to keep pushing not only my game further, but that of newer players and to continue the growth of the sport. Would also love to travel overseas and play some big competitions.
Q: Can you share a top form tip or something that substantially helped you improve your play.
A: Improve your weaknesses, perfect your strengths. Majority of the time in tournament play or pressure situations you will fall back on the shots that are your strengths, so don't forget to work on them as well. A forehand specific tip would be to learn to throw understable discs. Many people (myself included) start learning with overstable discs. You'll be surprised by some of the lines and distances you can throw by doing this.
Q: What top pro player do you look up to and why?
A: Probably would have to be Nate Sexton. Not only for his silky forehand skills, but I admire the way he breaks down a course and plays smart golf.
Q: What is your favourite disc in your bag right now and what do you use it for?
A: Hard to go past a Sexton Firebird. Has a great feel in the hand, go-to forehand disc, is reliable, works on multiple lines and as a bonus they look great!
Thanks Ryan!