Reflections on the 2022 WFDF World Team Disc Golf Championships – By Aaron Moreton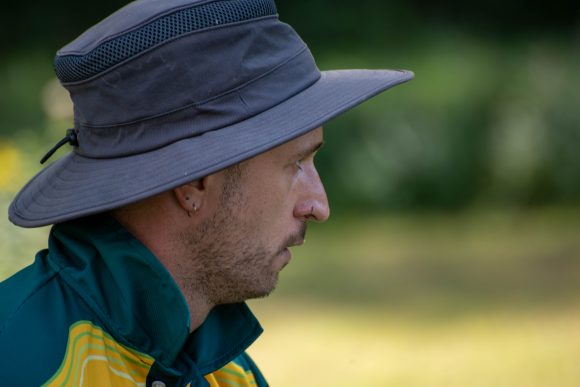 Being Selected
January 10th, 2022 will always be a significant day in my life. It was the day I was selected in the Australian Disc Golf Team to compete at the WFDF World Team Championships in Croatia. In many ways it was a bit of a surprise: there are plenty of capable players in the country and I knew competition for places was strong. But instead of jumping and down with excitement, I had mixed emotions. With selection came the pressure to perform for my team, for my community, and for my nation – let alone the weight of my own expectations. I couldn't take this honour lightly and figured it deserved some consideration before I committed. Was I really good enough to represent my country at Disc Golf? I guess there was only one way to find out.
The Journey to Varazdin
The journey to Varazdin started when I first saw disc golf in 2009. A complete novice, with no disc sport experience, I could never have dreamed of where this sport would take me. Fast forward 13 years and here I was building a plan to ensure I gave myself the best chance of performing well for the team in Croatia. It may surprise some that after my selection I decided to decrease how much disc golf I played in early 2022 – and no this wasn't due to the wet weather! I wanted to condition my body to handle seven days of disc golf, with a combination of lap swimming and running. I also gave up Table Tennis, another sport that I regularly play that often leads to minor knee and elbow injuries. I had to commit fully, that's what the team deserved.
An increase in play came in May, which gave me three months to tune my game before departing mid-August. This involved plenty of putting practice and field work with Luke Bayne. The goal was to play well at some of the local Brisbane tournaments leading into the final weeks before departure. I'm happy to say this went according to plan.
It's been said that there's no such thing as too much preparation. I had a simple response to the many questions from friends and family at home about our chances of success:
'The winning team might not be the best disc golfers, but those that play best on the courses that week as a team.'
With that in mind we were the first team to arrive in Varazdin leading into the event. Four days allowed us plenty of practice rounds together across the two challenging courses, and time to deal with the jetlag we all felt. We held multiple intra-team matches to ensure we were in peak competition mode, both physically and mentally. We simulated the scoring and formats of match play singles and doubles. There was no going easy on anyone in these matches. Not only did we want to challenge each other and lift our performances, but I sensed quite a few players were here to prove their point and justify their selection to others in the Team. This process instilled a noticeable confidence in the whole group. I think we left the warmup days with a heightened level of belief.
Wearing the Green and Gold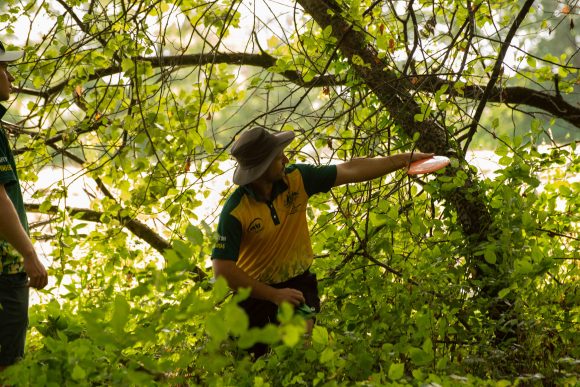 Receiving the Aussie jersey was a milestone of the trip and something I'd been eagerly anticipating. The evening before the competition kicked off, we held a presentation at the hotel with all players receiving their personalized team kit. After a few motivational speeches from the leadership group and it was clear that the green and gold jersey carried an aura. We were no longer just disc golfers; we were now Australian representatives.
As soon as I got back to my room I unpacked my shirt, threw it on, stared at the mirror and just smiled. It is hard to put into words how I felt, but I remember for a few minutes that it seemed like nothing else in the world mattered. I was completely present in the moment. I took a minute to reflect and acknowledge the people back at home who'd helped make this dream come true. Nobody climbs Everest alone. I felt an overwhelming sense of pride. Pride in myself for the sacrifices and efforts I'd put in to get here. I was now ready to do myself, the team and everyone back at home proud.
The Fellowship of the Sugar Gliders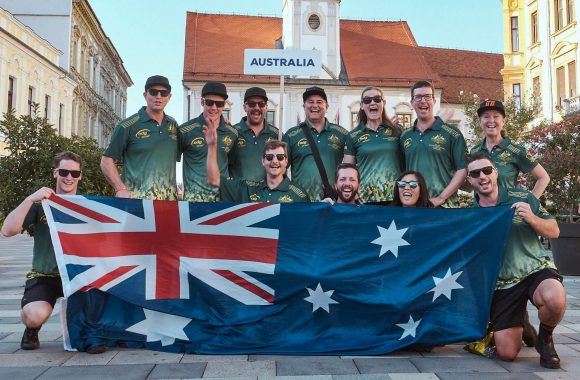 Leading into the event I was always a little curious as to how a team of players from all parts of the country would gel. Especially as this was the first-time meeting for quite a few of us. From the handful of video meetings we'd had throughout the year it was clear that the player personalities were very diverse. Would people feel lonely or out of place? Would it feel weird playing doubles with someone you hardly knew? Absolutely not. This mismatch of personalities was the secret sauce we needed for a cohesive team. Everyone brought a fresh perspective and opinion to enhance the overall experience. Something that, I believe, proved to be a differentiator for Team Australia.
Disc Golf for the most part is anything but a team sport. Typically, you are entirely focused on your own game, not at Team Worlds though. You need everyone playing well and find yourself bending over backwards to make that happen. This requires honesty, motivation and discipline. Moreover, it requires every single team member knowing and owning their individual role in the team, whatever that may be. We've all seen caddies before, but imagine a caddy for a caddy – yup, that's how committed and caring to each other we were.
The one thing that stood out for me was that no individual felt larger than the team. Every decision made, was done with the team's best interests at heart. I honestly believe that our leadership group had it easy given the level of selflessness amongst the team. Everyone was totally focused on going as deep as possible in the tournament and if that meant putting yourself aside for a stronger player then so be it. They say that a strong team beats with one heart – no member of our team would argue this.
Battling the Inner Beast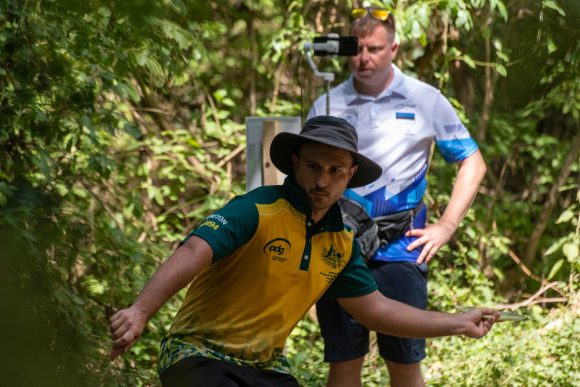 Disc Golf challenges the mind in ways very few other sports do. The weight of expectation and fear of failure can crush you. Throw in the strategy and mindset of match play and this is a very different beast to what I was used to. Imagine then how amplified these feelings can be when you are representing your nation with the coat of arms on your shirt; no longer playing as an individual but as part of a team. This is something that is almost impossible to train for.
I entered the final group match against Estonia relatively calm and focused. They were one of the top seeds for the event and possessed a seriously powerful team (they were the eventual champions). I was tasked with playing singles against one of their top MPO players, Henar Ruudna, who was rated significantly higher than me. Luckily it was on a section of the course that I felt was well suited to my game, so I believed I had a chance. It started horribly, a misfire on the first hole meant I went down by 1 immediately. Doubt creeps in, 'how many holes will I last? This guy is way better than me'. Let those thoughts come and go, reset, and breathe.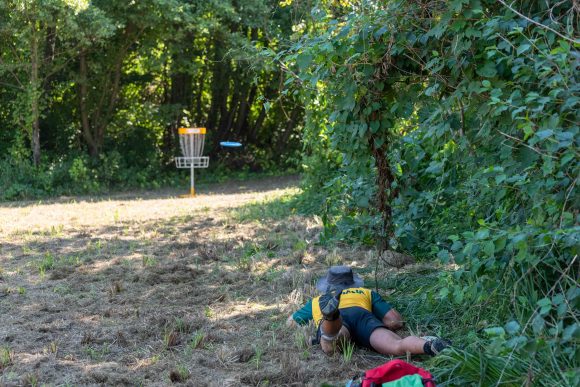 If there's one thing typical of Australian sportspeople, it's that we don't lie down, we fight to the end. I'm proud to say that every match I played went down to the last hole, something that might sound unusual to those unfamiliar with the format, but in match play you can win or lose very quickly. Now was the time to fight. By the last hole Henar and I were all square. Hole-9 is one of the tightest tunnel shots I'd ever seen, extending some 50 metres past the tee. We fist pump and wish each other good luck. Henar tees and hits a tree, presenting me with an opportunity to strike. I disc down, hit the gap, and leave myself with a 5m putt for the win. Five metre putts should be straightforward, but this was the hardest putt of my life. So many things going through my head. I was no longer putting for the win but putting to defeat my demons. I made the putt and felt I'd justified my selection. They don't feel much sweeter! For the record, Henar and I swapped jerseys and shared some nice compliments at the end-of-play party.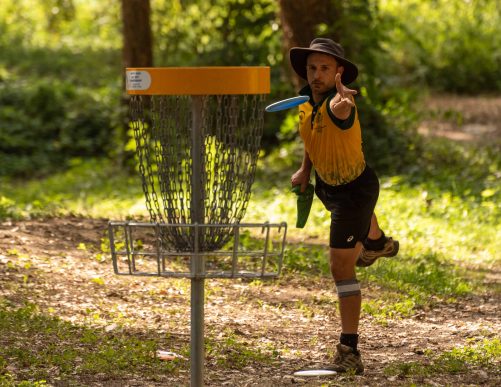 We Rise, We Fall, and We Rise Again.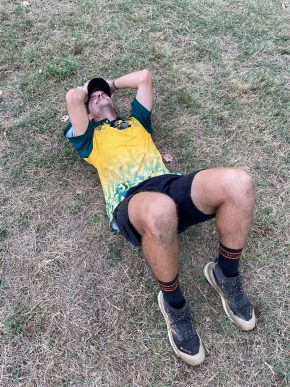 Disc golf is rarely smooth sailing. Our run through the event had its highs and lows. The quarterfinal loss to Canada was shattering and probably the low point of the event. The level of belief in the team was so high, so to lose on the final hole of that match was a hard pill to swallow. We genuinely felt we were capable of finishing on the podium. We played extremely well, and it could easily have gone the other way. Personally, it was a privilege to caddy for Luke Bayne that day and watch him almost lead us to the semi-finals.
There was still time to leave on a high. We could now finish as high as 5th and with a laser like focus we lifted again to achieve the best finish at this event ever for Australia. A credit to everyone involved and reward for the time and preparation the squad had invested.
Playing for Peace
There is no greater story than the attendance of Ukraine at the event. Their attendance was only confirmed in the weeks prior to kick-off. Ukrainian men are currently forbidden to cross the border due to the ongoing war with Russia, so getting their team to Varazdin was no easy feat. Privately, I'd wanted to play against their side from the moment I heard they were a chance of coming. Ten years ago, I spent my 22nd birthday in Kiev and only have fond memories. I've always felt a special connection to the country and its people. This hope wasn't about competition, it was just to be with them and show them that they have support from the other side of the globe. Given the standing ovation they received at the opening ceremony, it was clear that everyone there felt the same way. Luckily for me the wish came true on the first day of play and I was paired with David Perry to play Doubles against them. I don't think I've ever clapped so hard or cheered so loudly for an opponent's throw – these guys knew how to play! In the end we tied the match, and personally, that felt like the perfect result.
Winning on and off the course
Winning the Spirit of the Game Award was a great way to top off the event. I know the team holds this recognition in high regard because it is earned through character not skill and assessed entirely by your opposition. I've always believed that Australians pride themselves on fairness – so to be awarded this medal only further confirmed this belief.
But this was not the highlight for me. Nor was the 5th place finish. Rather, I hold the bonds I've made with my teammates as the highlight of the event. I'm proud to call each one my friend and these are relationships for life. Together we rise, together we fall, and together we rise again.