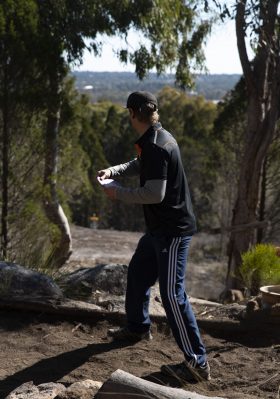 'So what do you guys actually do?' was a question thrown to one of the ADG board members at a tournament recently; and we get it – it's sometimes hard to see what governance is, and the role it plays. But what unfolded recently, around what will  undoubtedly become one of the signature moments in the sports history, is a good example of what is possible when a local crew, their tournament, independent media and the ADG all pull together.
As soon as Queensland Disc Golf Championships TD and Granite Mountain owner , Nathan Lee messaged a few people with the news 'Rhys just won with an ace', we knew this was going to be a big story. So did everyone involved. Oscar Feldberg at Cut Roll Media, who'd filmed the event, bypassed his normal workflow and burned some late night oil to get the highlight posted up on his youtube channel as fast as he could. Our media guy used his connections with the sports biggest online publication Ultiworld, to get the video posted there and also worked late at night to knock-up a few hundred words to go with it.
Then, in a sign of how well Nate lee has communicated with his local media in recent years, the local Stanthorpe Border Post contacted the Granite Mountain crew, asking them about the tournament (not the other way around – can you believe that?) But Nate had been hospitalized with a severe bout of influenza. Thankfully Carmen Lee was available to give them an interview. We chipped-in with another press release to help the journalist write her article, while disc golf photographer extraordinaire Rhinda Larsen, kindly donated two high resolution pictures to go with the story.
Rhys Kruger used the press release and some of Rhinda's pictures to spread the word among his local Gold Coast news outlets as well. It's a moment like this, that has the potential to 'jump the tracks' and not just spread the word about our sport to the uninitiated, but convey it's passion and skill. It seemed that everyone who cared, got behind this story as best they could.
Oh, and congratulations to Rhys Kruger on an amazing win.