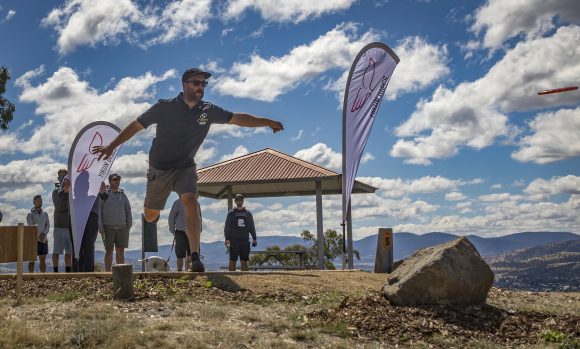 If you are looking for a sign of the growth in disc golf in Australia, then these two pictures tell a tale. The first is the picture of the entire field for the 2010 Two heads Open at Poimena Reserve near Hobart in Tasmania (minus two that had left to catch an early flight and the photographer).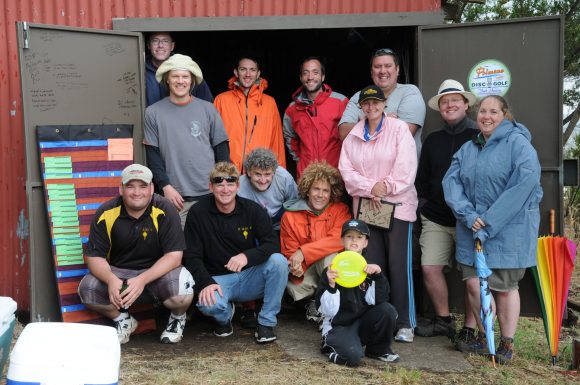 The second is the field for this year's event. In the 15th year of its running this was the biggest attendance so far – 53 players from five states in a time when interstate travel is still difficult for many.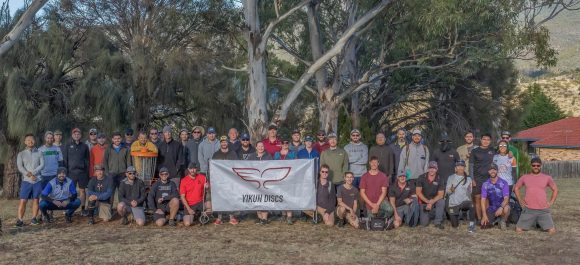 They competed on Australia's oldest existing course, and one that is regarded by many to be among the best in the world. Tackling steep hills, unpredictable winds, rough terrain and the famous Poimena roll-aways.

It was a double roll-away 7 on the par-3 hole 5 in the first round that dented Darren Stace-Smith's hopes, but he bounced back with one of the hottest tournament rounds on the ADG tour so far this year, a 6-under 55 that provisionally achieved a 1014 PDGA rating. Stace-Smith went on to win the event after a tense 9-hole final, by 4 throws from Chris Ronalds, with Tim Bohan in 3rd.

"I got Poimened early in my first round with that double roll-away on five" Stace-Smith said. " I had to keep my wits about me from then on. Apart from that one hole I think I was still well under par. There's a throw in the final 9 footage that I'll laugh at. On the same hole I've thrown a putter to try to slowly get there. It was about 3m off the ground still when it sailed past the basket. It hit trees about 40m below the hole. If it gets past them it's probably 250m away as the wind was perfect to keep it flying forever."
It was Stace-Smith's first win in the open division after dominating at MA1 in recent years. He puts his improvement down to a shift in his mental game.
"I might be starting to develop a bit of fortitude, or stubbornness (not sure which as yet) is . I've fallen short a handful of times in recent memory, where I've had chances to win and let them slide away. I went into this one with a bit of extra intent, and tried my best to capture opportunities if they popped up. I tried to be patient and was hopeful that the chances to gain shots would present themselves."
Other winners on the weekend were: South Australia's Sarah Lee in FA1, local Oliver Mundy-Castle enjoying a win on his home course in MA1, West Australian Lotus Kingston in MA40, Victorian Carey Edwards in MA50, Jonathan Dragt leading 3 other South Aussies home in MA2, local junior Atticus Ariston in MA4 and another South Aussie in Alice Si winning FA4.

The 13 strong SA contingent was notable. In days gone by it was the famous Black Shirt Army from WA's Perth Disc Golf Club that would roam the land, descend en masse on east coast tournaments and fly home with the trophies. Now it's the red and black shirt army from South Australia doing the same thing. As the sport in SA grows, it is on a pace that might have it become the hotbed for disc golf in Australia before long.

Most Australian disc golfers who have been there, love Poimena with that unique passion that any person has for a beautiful landscape that holds their stories. These, however, are not often healthy two-way relationships. Poimena rarely loves anyone back. Ryan Nicholson, one of the leaders of South Australian disc golf, summed it up better than most.

"I had a fall onto my knee during round one; crossing the steep, wet and slippery road. I slid 3-4 meters down the road on my hands and feet and bled everywhere. Other than that, the course decimated my poor skills, poor decision making and rating. But I had a great time all-round. "

The 'Two-Heads' has become an institution on the Australian Disc Golf tour and the weekend at Poimena is on the bucket list of many disc golfers in Australia and around the world. With the growth of disc golf in Australia continuing and in hopeful anticipation of interstate travel being back to normal in 2022, look for the 2022 Two Heads to be even bigger.