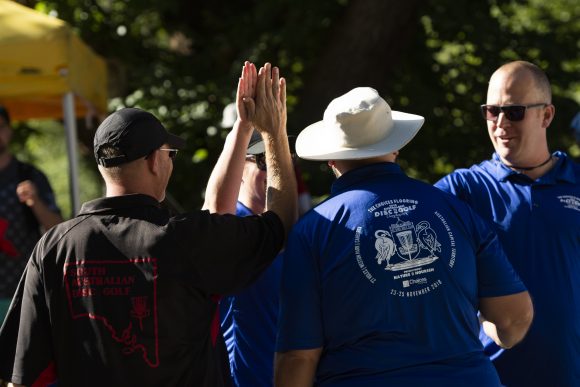 Disc golf is unique in the way it connects people. Unlike many other sports, the social activity doesn't stop when the field of play is entered. Also, all levels of play – casual to highly competitive – usually occur among the non-playing public. We'd like a code of conduct that more closely suits this unique social context. A code that represents all of us in Australian Disc Golf. We think it would serve a few purposes:
It would assist in explaining the culture of our sport to other potential stakeholders (such as local government).
It would help educate the many newcomers to our community on their responsibility to be good representatives of the sport in public and good custodians of the parks that we play in.
It would give us a more explicit set of boundaries around anti-social behaviour: on the course, off the course and online. What constitutes an acceptable way to treat other people in disc golf is obvious to nearly every one of us. Nearly – unfortunately, there are a very small number of people who didn't seem to 'get the memo' about this somewhere in their development. We need to be clearer and more direct with these people about how to act toward other disc golfers if they want to stay in our tribe. We'd like to do what we can to keep the Aussie disc golf community as safe, respectful and inclusive as possible.
It would be our code. Something about Aussie disc golf that says 'this is us'. It isn't intended to duplicate the PDGA players code; we want to expand on it for the environment of Australian disc golf and to cover the out-of-competition and off-course behavior that our rules of association require us to address.
So we'd like to hear from our members. Submit any comments or ideas you have for our code to secretary@australiandiscgolf.com. We'll use all of these submissions to help us write the new code.