Disc golf in Queensland is about to change in a big way. We had a chat with Queensland Disc Golf president Aaron Moreton about the huge weekend they've got coming up in Brisbane.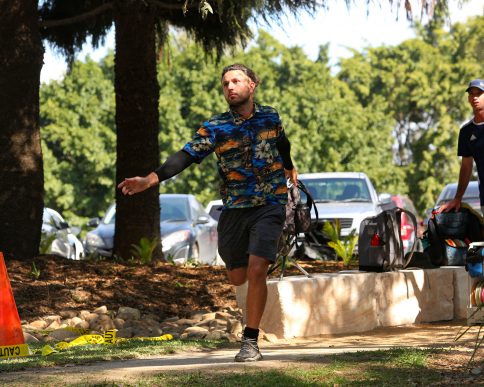 So this weekend might just be the biggest weekend in Queensland Disc Golf history. Tell us about what is happening.

We are celebrating the completion of two new disc golf courses in the Brisbane City Council catchment (BCC). A 12-hole course in Rocklea and an 18-hole course in Carindale. Both courses with large teepads and signage. No doubt it will be a weekend that we will look back on with a smile.

Take us back to the beginnings of the new courses. How did the process start?

Two courses, two completely different stories…

The Rocklea course had been in the pipeline for some time. We were hoping to upgrade the existing course at Fehlberg Park, Yeronga, which had been our home ground for 13 years. Council however had flagged that course as unsafe due to population growth and increased foot traffic. As sad as it was, we did acknowledge this growing concern. Simply put, Fehlberg Park was to be removed entirely once we identified a suitable replacement location. After a bit of 'back & forth' we ended up with a 12-hole course in a beautiful park only 5kms away.

"Strike while the iron is hot"…..

During the final design stages at Rocklea I received a phone call from a lady at Brisbane City Council. She worked in a different department with a different purpose – to activate parks in Brisbane to promote a healthy lifestyle. She had heard of me through her dealings with others at BCC who were involved with the Rocklea course. I'll never forget that first conversation with her, "we might want to install another course or two, could you meet me to explain what exactly Disc Golf is". At that point in time she knew nothing about our sport, but after a 15 minute meeting with me at Yeronga, she was onboard.

The process of getting a disc golf course in the ground is never smooth. What hurdles did you hit on the way?

Obviously COVID-19 played its part and at one stage threatened to derail the Carindale course entirely.
As expected there were numerous 'robust' conversations around public safety, course design, flora and fauna protection, hardware quality and available space. Hurdles that were slowly overcome but took considerable patience and effort.
Most recently we have had complaints from residents – people by nature are resistant to change.
On the other hand, we have had complaints from residents that the existing course at Yeronga is being removed – sometimes you can't win!

What lessons can you share for other people who are keen to get courses developed in their area, in how to overcome some of the common hurdles?

If you plan to go down this path put your marathon shoes on, this ain't a sprint. I have been 'running' for some 200+ hours and can only just see the finish line. My tips include:
Communicate professionally in all its forms – you and the sport will be judged on your early interactions
Stay positive and pivot as needed – a 'no' today doesn't mean a 'no' tomorrow
Be reliable – no one likes having their time wasted
Show flexibility and open-mindedness – you're probably not going to get everything exactly how you had originally envisioned
Respect the process – slow progress is better than no progress
Respect the people – and there may be a lot of them to respect!
Patience is critical – even the slowest stream can cut through rock over time
Diplomacy is really important. Smile and say thanks – people are more likely to help us if we show gratitude

Oh, and learn to explain what Disc Golf is in under 20 seconds – you will be explaining it more than once.

What personal lessons did you take out of this long process? What would you do differently next time?

As it stands, I am proud of the outcomes I have achieved. Some things I can control, and other things I can't. Where possible, I have gotten what we wanted.
If I had my time over I would like to get everyone in the same room at the same time so we can iron out all potential issues from the start – easier said than done though!

What overall attitude, or spirit, does the sport need, particularly in how we approach local government to tell them about the sport?

I think as a collective we are quick to sell the sport, but slow to sell the benefits. We must not forget that 99% of people do not know what our sport is. Nor do they care about learning about it. So, we should inform them of what our sport can 'give', rather than what we 'deserve'.

What do you think the two new courses mean for disc golf in Queensland? How will they help the game develop?

Massive would be an understatement. The sport is already booming locally, and these new courses will only add fuel to the fire. I dream of 1000 regular players within 12 months across South-east QLD.

What is the feeling for you now? Having been the point-man for the development of these courses and having been through the ups and downs of getting them in the ground.

Initially when I heard they were going in it was excitement. But as I have had time to reflect and dealing with delays due to the pandemic it is more relief.

I'm sure you've had some help in all of this too. Who would you like to thank for that support?

Three key areas of thanks:
The Councillors who bought into the sport and my vision. Without their approval the courses would not proceed.
Internal BCC employees, namely Sarah and Dean for being the voice of Disc Golf within the council chambers.
Bruce McNaughton and Stephen Kearney. My go-to minds throughout the journey.
For more information, go to Queensland Disc Golf