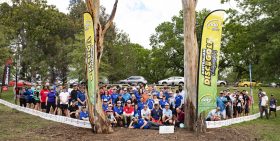 The Annual General Meeting of Australian Disc Golf (inc) will be held on
Thursday 31st October 2019, 6:30pm at Mount Gambier Golf Club (235, Attamurra Rd), SA.
This is in conjunction with the awards night and players meeting being held at the same location. The agenda for the meeting and the financial statement can be seen by clicking the links.
At the meeting we will be electing the ADG Chairperson, Vice Chairperson, Secretary, Treasurer, Director of competitions, Development officer, Communications officer and State representatives for the ensuing year. As per the ADG Rules of Association, written nominations for the above positions must be received by me, the Secretary of Australian Disc Golf (inc) by 5.00pm Wednesday 23rd October at secretary@australiandiscgolf.com
A Special Resolution to adopt new Rules of Association will be tabled and voted on during the meeting. The new Rules of Association have been updated from the previous version to reflect changes to the incorporation model rules put out by the WA government (Associations Incorporation Act 2015). A summary of the major changes:
"Oversee Australian Disc Golf tour" added as objective of the organisation
Voting age set to 15
A member can only be a proxy for up to 5 other members
Specifies that we were not formed or carried on for the purpose of securing profit for our members from our transactions
Sets out rules around forming subcommittees.
These changes will require a 75% majority to pass.
If you will not be attending the meeting you may vote by proxy. You can complete the proxy form online at proxy form
The AGM is a great opportunity to hear what has happened in disc golf around Australia in the past year and what is coming up in the year ahead. Following the official parts of the meeting the floor will be open for general discussion. You can bring items up at the meeting or send our board secretary Emilie Cameron an email with any agenda items you'd like added.